Nikon Nikkor Z 14-30mm F4 S lens review by DxOmark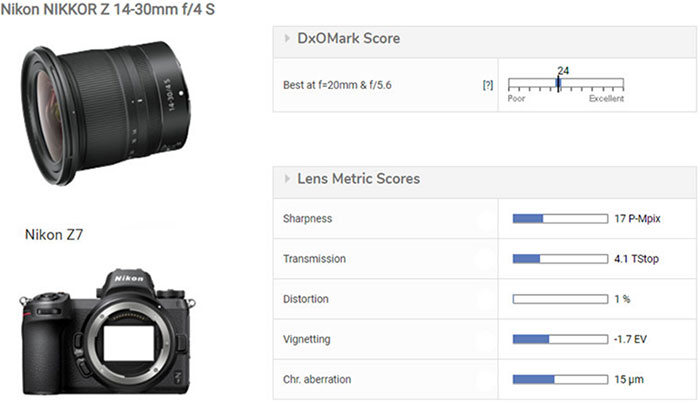 DxOmark published the full 14-30mm review. The conclusion:
With its ultra-wide angle of view and truly compact dimensions, the Nikkor Z 14-30mm F4 S is without doubt a highly appealing solution. Couple that with a flat front and the ability to add 82mm screw-in filters, and the new Nikkor seems ideally suited to landscape and travel photography. While open -perture performance is a bit lacking, the lens performs pretty well only one stop down at all focal lengths, including at the vaunted 14mm focal length.

With the mirrorless Z cameras' in-body stabilization, using F5.6 with a low ISO might not be that challenging, and it is of course of little or no consequence when used on a tripod. Given the choice between it and a lens with more limited coverage or a much heavier and larger lens with better open-aperture performance, the Nikkor Z 14-30mm F4 S seems to strike a happy medium. And with a price of around $1300, it shouldn't be overlooked.

In this review, we have compared the Nikkor Z 14-30mm F4S to its closest rivals from other brands. Remember that the lenses are intended to be used on different camera systems and mounts, so the comparisons are not strictly applicable.